Vision Rehab Resources for Occupational Therapists
It has been my pleasure to share information with OT students, PTs, SLPs and anyone else that will listen. It is my belief that information should be free and accessible to all. It is very exciting working in a unique OT area where there is so much to share.
Where can an occupational therapist learn more about vision rehab??
It was my pleasure to be a part of the Vision Rehab Roadshow in Calgary, Alberta, CA working with Dr. Charles Boulet. Dr. Boulet and I presented a two day conference that was amazing. There were discussions about lenses and visual diagnosis and so much more. The second day was all activities for improving visual skills. This course was amazing and you can get it at VisionMechanic.net along with some other great courses we put together.
My first course was Mary Warren's Vision Processing Impairment . This teaches the basics of eye movement assessment, visual field treatment and puts it in a nice functional context. It was a great course that got me much more aware of the visual problems neurological patients face and how to fix them.
If Mary Warren is the OT reaching towards optometry, Mitchell Scheiman is the optometrist reaching out to OTs. His courses and books are specifically teaching OD skills to OTs. I refer to this book frequently and it needs to be on more OT's shelves.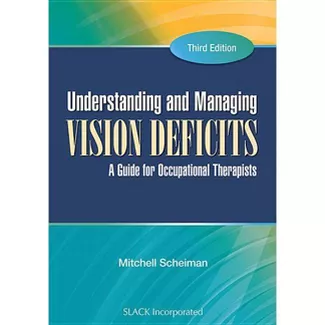 Dr Scheiman also teaches a two day course for therapists that discusses the mechanics of vision the first day and interventions on the second. He is also on the faculty of Salus University's post professional OTD program in Vision Rehabilitation.
There is also the course that I teach for PESI Education on assessment and treatment of binocular vision disorders.
Vision Rehab articles that are important for OT's
Here are some of my favorite journal articles.
The Convergence Insufficiency Trial is important. It proves that the in-office treatment of convergence insufficiency is most effective.
A systematic review of what works for treating visual field defects.   
The website of the Neuro Optometric Rehab Association is a great resource for information on treating the visual problems of stroke TBI and concussion.
For the EI therapists, here is a nice piece on the development of the visual system in infants.
The Journal of Behavioral Optometry and Optometry and Visual Performance are located at the Optometry Extension Program Foundation website. Complete article is available. There is a great bookstore too!
Vision Rehab and Occupational Therapy websites
Eyecanlearn.com has great activities.
Hartchartdecoding has a fun saccade activity.
Michigan Tracking is a tracking/Saccades task.
Learning Works for Kids is a great website that has a search engine to find apps that address specific skills for specific ages.
LittleBearSees.org offers great information about cortical visual impairment for therapists and parents alike.
Who cares about eyes anyway?
As one discovers more about vision it becomes obvious that as OTs we must be evaluating vision better. Eye movement accuracy affects balance, academic performance and overall development and it can be improved.
Visual processing, balance, gross motor development, and reading cannot be successfully treated while a child has poor eye movements! It is like testing for sensation while a patient has gloves on.